Overview
The Benefits Expense Transfer (BT) and the Year End Benefit Expense Transfer (YEBT) documents are used to transfer benefit charges for a particular accounting period or set of periods from one or more accounts to one or more other accounts. Object codes are defined as fringe benefit in the Labor Object Code table by setting the Financial Object Fringe or Salary Code value to F. For more information refer to Setting up Labor Distribution to calculate benefits.
The Year End version behaves the same except for the following:
Entries post into period 13.

The document does not route to the Fiscal Officers. It routes for Organization Review.
Corrections are typically needed to remove benefits erroneously charged to wage-only contracts and grants accounts.
Ledger Balance Importing
The Ledger Balance Importing tab allows a user to enter criteria to search for the Labor Ledger record that needs to be corrected.
After an Account and Chart are entered, click Search to open the Ledger Balance Lookup for Benefit Expense Transfer Document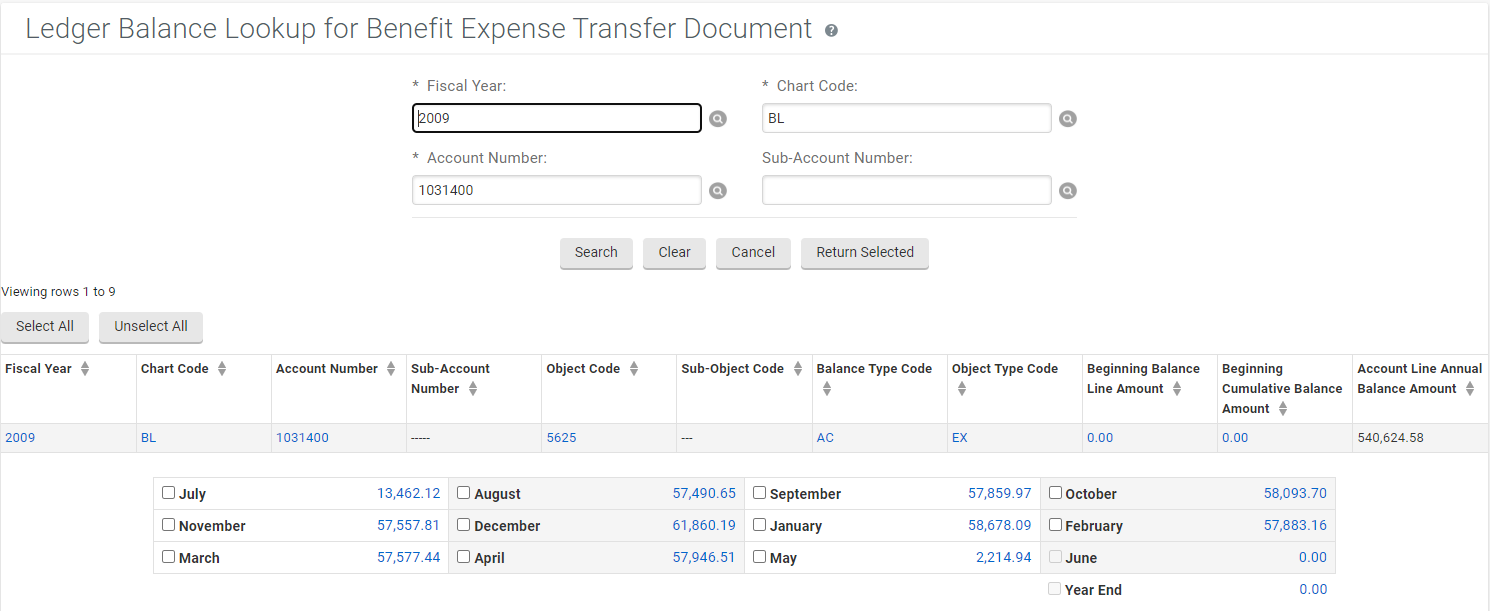 Select the desired entries, click Return Selected. To Return to the Benefit Expense Transfer document. The FROM line is populated with the selected entries and cannot be changed, other than Amount. Enter the Amount that should be moved. Copy down the lines to the TO section and change the accounting string as desired.
An amount may not be transferred if it exceeds the Labor Ledger balance total for the fiscal year, pay period, chart, account, sub-account, object, and sub-object shown in the

From

section.

When moving fringe benefits to an account that has been coded not to accept fringe benefits, select the

Non-fringe Override

check box or a different account before the line may be added.

When the parameter COPY_SUB_OBJECT_TO_BENEFIT_ENTRIES_IND is set to Y, sub-object codes will be added to the generated benefits lines.

Benefit transfers between different fringe benefit object codes is not permitted.

Object codes cannot be changed in the

To

section even though they appear to be editable.