When creating cost reimbursable invoices, transactions must be present in the General Ledger for prior periods in the current fiscal year. The easiest way to get transactions into the General Ledger is to load a file of transactions via the General Ledger Correction Process.
A file of budget and actual transactions are available for download in step 1. The file can also be changed to create transactions specific to your scenario. For more information on the file layout, refer to the General Ledger Flat File Format article.
Loading transactions using the General Ledger Correction Process
1) Download the file "CostReimGLCP.txt" The file is located in a google drive and contains transactions for cost reimbursable awards for all three billing methods: invoice by account, invoice by award and invoice by contract control account. Refer to CGB - Awards, Accounts, Customers and Fund Managers for a list of Cost Reimbursable awards that will be generated from the transactions in this file.
2) Go to Monsters Sandbox. User ID: khuntley; Password: password
3) Search for or open menu link General Ledger Correction Process. General Ledger Correction Process is located in the Accounting menu group.
Use the Jump To (Ctrl K or CMD K) to open Jump To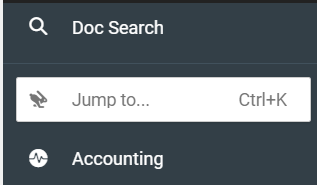 Enter GLCP into the Search box:
4) In the Document Overview tab, enter a Description.
5) In the Correction Process tab, select File Upload and Using Criteria. Click the Select button.
6) Clicking the Select button will open the Correction File Upload tab. Click on the Choose File button and select and return the CostReimGLCP.txt file saved in your download folder. Click the Load Document button.
7) Clicking the Load Document button will load the transactions into the Search Results tab. If the Fiscal Year and Fiscal Period need to be updated, continue with steps 8 - 10 , if not (the fiscal year column displays the current fiscal year and the fiscal period column is a prior fiscal period), skip to step 11.

8) In the Edit Corrections tab:
On the Search Criteria side:

Field: Select Fiscal Year
Value: Enter 2019
Click Add

On the Modification Criteria side:

Field: Select Fiscal Year
Replacement Value: Enter <current fiscal> *
Click Add
Field: Select Fiscal Period
Replacement Value: Enter <current fiscal period - 1> *
Click Add
*NOTE: If you are testing in July, the current fiscal year will be the prior fiscal year and the fiscal period will be 12.
Following is a screenshot where we are changing the fiscal year to 2019 and the fiscal period to 02.
9) In the Edit Options and Action tab, click the Show button next to Show Output Group.

10) Clicking the Show button, updates the Search Results with the replacement values.
11) Click Blanket Approve. The transactions are now ready to post into the General Ledger. Batches run nightly in the test environments, or you can run the jobs listed below manually.
Jobs that need to be run after transactions are loaded
Refer to the Running Batches - Batch Schedule article for instructions.
ScrubberJob
PosterJob
contractsGrantsInvoiceDocumentJob (this one takes about 5-10 minutes), you could also choose to skip this job and create the invoices manually as the Fund Managers for each award. For instructions on creating Contracts & Grants Invoices manually, refer to the CGB - Manually Creating Contracts & Grants Invoices article.
The Accounts in the CostReimFile represent the following awards and fund managers:

Award: 80066; Fund Manager: wjohnsto
Award: 80067; Fund Manager: eharmend
Award: 80068; Fund Manager: hagood